Welcome to Eco Exteriors Roofing and Gutters.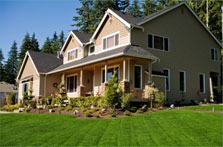 Eco Exteriors Roofing and Gutters is proud to be Vancouver's environmentally responsible Roof and gutter supply and installation company. We focuses on progressive thinking, and we're dedicated to providing the entire lower mainland with affordable and eco-friendly roofing and water drainage solutions in a professional and practiced manner.
Whether it's a brand new roof or gutters, a partial replacement, or just a simple Roof or gutter repair, we can take care of your needs. Eco Exteriors Roofing and Gutters specializes in the supply and installation of Ashpalt Roofing, Cedar Roofing, Metal Roofing and Recycled Rubber and Plastic Roofing. As Well 5 and 6 inch gutter systems, Euro style half round Systems and providing superior and Green Roof and Gutter Accessories, cleaning products, services, protective screens and water capture options. We offer a wide variety Roofing, Gutters and downspout profiles. These are all available in several different colours that will truly compliment and improve the appearance of your home.
Our strength is the hard work and passion of the entire Eco Exteriors Roofing and Gutters professional team. From our experienced and knowledgeable sales associates that are readily available to serve all of the Greater Vancouver area to our qualified and skillful installers, Eco Exteriors Roofing and Gutters is committed to delivering innovative, professional and most importantly environmentally friendly results. Our team leaders are stationed in West and North Vancouver, Burnaby, New Westminster, Coquitlam, Surrey, White Rock, Richmond and Delta are ready to provide you with friendly, informative and genuine service.
Contact us now to arrange for your free assessment of your Roof and Gutters and a free estimate. We also invite you to check out our Eco Roofing and Gutter packages that are designed to maximize the use of your Roof and Gutters. Don't see what you're looking for? Want something more? Our specially trained Product Advisors can help you find the solution that fits your specific needs.
Contact our Metro Vancouver Office
Contact our North Shore Office
See our Frequently Asked Questions
Eco Exteriors Roofing and Gutters provides 40 years to a limited lifetime warranty on all Roofing and Gutter materials and up to 10 years on workmanship. Please contact office for details.
All quotes are customized for your home by a qualified Eco Exteriors Roofing and Gutter product advisor. Call now for your Free Estimate.
Eco Exteriors Roofing and Gutter is committed to its product, services and community.
Eco Exteriors Roofing and Gutter donates a portion of every job to Vancouver Aboriginal Child and Family service society and City Farmer.